Remember when you were a kid and loved reading those "Choose Your Own Adventure" stories? Well, baseball fans, we have a real treat for you -- a Bryce Harper Choose Your Own Adventure story. Here's how it works:
Start reading below. As you'll see in the very first line, you are the protagonist. Control the narrative by channeling your inner Bryce.

Whenever you see a fork in the road, make a choice and click on it.

When you reach the end (i.e. no more choices), live happily ever after with your decision. Or don't -- part of the fun of the CYOA genre is going back and exploring all the other endings.
---
You're
Bryce Harper
.
You have perfect hair. You have a powerful arm and an even more powerful bat. You have one Most Valuable Player award already in your possession, and you wouldn't mind another. But what you're really after is a ring.
It's the one thing that has managed to elude you during your seven years in the nation's capital. Well, that and a playoff series win. And a manager that lasts more than two seasons. And a passionate fan base that cares about baseball -- like, really cares. Sure, you were flattered when the Nationals drafted you with the first overall pick back in 2010. But Washington wasn't exactly a sexy franchise, and you love sexy franchises. Always have.
You'd be lying if you said you hadn't allowed yourself to envision playing in a different uniform next season, but in your mind, you kept coming back to the Nats. After all, you made your big league debut with them. You've spent your entire adult life wearing red and white. The fans in D.C. adore you, and despite the team's massively disappointing performance this season, the future is pretty darned bright -- especially if you stick around.
But now you're no longer under contract. A few days after the World Series ended, you officially became a non-member of the Nats. You are a free agent. Finally.
So where will you sign?
Click below to:

YOU'RE (STILL) A NAT!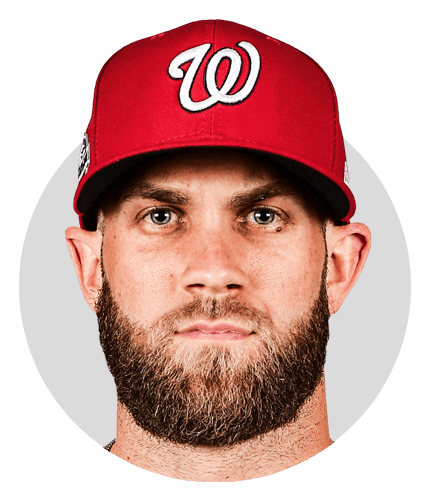 It was a weird season in D.C. Except for you, almost every key player on the team was hurt at one point or another. Your new manager, Davey Martinez, brought real live camels into spring training to help put the Nationals over the playoff hump (get it?), but it didn't work. You guys didn't win a playoff series, or even make the playoffs. Your Nats, expected to contend for a World Series title with largely the same squad that averaged 96 wins the previous two years, were far and away the biggest disappointment in baseball. Still, the window remains wide open in Washington.
Staff ace Max Scherzer has three more years left on his contract, and Stephen Strasburg has five more. Shortstop Trea Turner, a fellow 25-year-old who's one of your best buddies, should be around for at least a few more seasons. Rookie Juan Soto is a beast, and an outfield that features him, top prospect Victor Robles and you does have a nice ring to it.
Speaking of rings, the fact that you haven't been able to deliver one to the District yet bothers you. And while that matters, it doesn't matter quite as much as this: The Nationals are the only team you've ever known. You have a strong relationship with GM Mike Rizzo, who has been there since day one, a steadying presence as the team has churned through manager after manager. You've spent the past seven years patrolling the outfield at Nationals Park and you know the contours of the right-field corner almost as well as you know your high school sweetheart (who, by the way, you married while you were a member of the Nationals). There's even a field named after you in nearby Takoma Park, a symbol of just how much you've meant to the city.
"This is my second home," you said at the ribbon-cutting ceremony in May. A couple of months later, in the midst of a horrible first-half slump, you electrified the hometown fans when you staged an epic comeback to win the Home Run Derby in your own park. You had it all working that night. The stars-and-stripes arm sleeve. The D.C. flag bandanna. The unwavering and full-throated support of a sellout crowd filled with fans from in and around the D.C.-Maryland-Virginia area. It was a crazy night, one that reminded Washingtonians just how much you mean to them. Perhaps more important, it was a reminder of how much the city means to you.
All that said, baseball is a business. You have the potential to sign a record-setting contract. You are represented by superagent Scott Boras. In other words, you're not about to hand out a hometown discount. That's why you reportedly said thanks but no thanks to the 10-year, $300 million deal Washington reportedly offered you at the end of September. In fact, you might be headed for a hometown markup.
True, someone might be willing to pay a little more for your services depending on positional need and/or payroll flexibility. But the Nationals are the only club with any emotional equity invested in you, and they've got lots of it. Much like parents who think their child is the greatest, Washington's opinion of you -- the face of the franchise -- is likely to be inflated relative to other teams. If you don't believe it, just check out that bloated $161 million deal Chris Davis received from the Orioles a few years back. And that was in a market where, by the looks of things, there weren't a whole lot of teams courting him. For you, things should be different. Much different.
By signing with the Nats, it seems you can have it all. The comfort level. The chance to win. And, of course, the money. Boras has probably already told you that you might have to be OK with deferring some of that dough, just as Scherzer and Strasburg (he reps them too) did in their contracts. The Nats already have $117 million committed toward next season, and that's without addressing needs at catcher, first base, second base and on the mound.
But assuming you don't mind a little delayed financial gratification, there's no place like home.

YOU'RE LEAVING THE NATS!
You've had it with the Nationals. It's not that you didn't have a nice run in the District -- there were plenty of good times. It's just that, well, seven years is a long time.
In fact, it's more than a quarter of your life. You were a kid when they drafted you, and now you're a man. It's high time to spread your wings and see what life is like outside the cocoon.
Click below to:
Stay in the (comfort) zone | Go oppo

YOU'RE HEADING TO A NEW NL TEAM!
Much like the family that sells its house only to move into another house right around the corner (it's all about the school district, baby), you're not ready to venture too far afield.
As such, you've ruled out a move to the American League and are focused only on Senior Circuit suitors.
Click below to:
Go for the glitz | Go for the gang | Go for the green

YOU'RE A DODGER!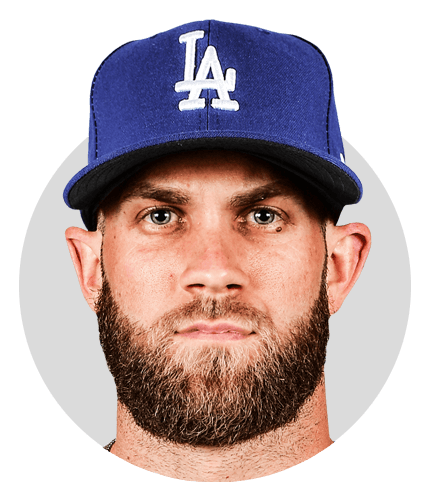 La-La Land, here you come. The Dodgers don't wear pinstripes, but it's pretty much your dream scenario. Because you're all about the sexy franchises. Always have been.
A couple of years ago, you walked into the clubhouse on the first day of spring training wearing a Dallas Cowboys cap, a gutsy move for a guy who's the face of a franchise headquartered in Redskins country. But you didn't care. After all, the Cowboys are America's Team.
When LeBron James signed with the Los Angeles Lakers in July, you wore an orange Lakers cap to the ballpark the very next day. Growing up in Vegas, the Lake Show was about the closest thing you had to a local NBA squad. Of course, it didn't hurt that L.A. is where Magic and Kareem and Worthy played, where Shaq and Kobe did their thing, where "Showtime" was born.
Of course, L.A. is also home to the Dodgers, one of the most storied franchises in all of pro sports. They're also one of the richest: Every season from 2013 through 2017, Los Angeles -- bankrolled by Magic Johnson and Guggenheim Partners -- had the highest payroll in the majors. That includes 2015, when the Dodgers' $301 million payroll was nearly $80 million more than the next-closest club. They scaled things back a bit last season, checking in with the league's third-highest number ($196 million), but that doesn't alarm you. In fact, it intrigues you, because odds are the increased thriftiness had everything to do with getting under the luxury tax threshold so the team could spend freely this offseason -- on you.
You're flattered the Dodgers put in a waiver claim on you back in August. It showed they wanted you. After all, most teams would have been scared off by having to pay a portion of the $21.6 million you were earning last season. That same gesture also proves that despite a crowded outfield picture, they'd have no problem making room for you. Maybe they trade Yasiel Puig to open up right field. Maybe they sell high-ish on Matt Kemp. Maybe both. You don't really care. Because regardless of whom the Dodgers unload, they'll still be loaded.
The squad that's won the NL West in each of the past six seasons still has Justin Turner. It still has Cody Bellinger and Corey Seager. It still has closer Kenley Jansen and ace Clayton Kershaw. Hell, if you're lucky, L.A. might even be able to re-sign Manny Machado so you can reunite with your old roomie from back when you were both teenagers on Team USA. Not that you need the pot to be any sweeter.
Besides the deep pockets and the deep roster, the Dodgers have one thing money can't buy: location, location, location. (Technically that's three things, but you get the point.) Chavez Ravine is practically around the corner from your old stomping ground in Las Vegas, meaning you'll get to see your pops that much more. And your homies. And your beloved Golden Knights. And on days when the MLB and NHL calendars don't align for you, the Lakers aren't a bad Plan B. Heck, there's a sporting chance you can even roll with Magic and hang in the owner's box.
While you're at Staples Center, you can chat with LeBron James, who, like yourself, seems to have a knack for the whole athlete/actor thing. It's just one more reason he took his talents to Tinseltown.
And why you just did the same.

YOU'RE A CUB!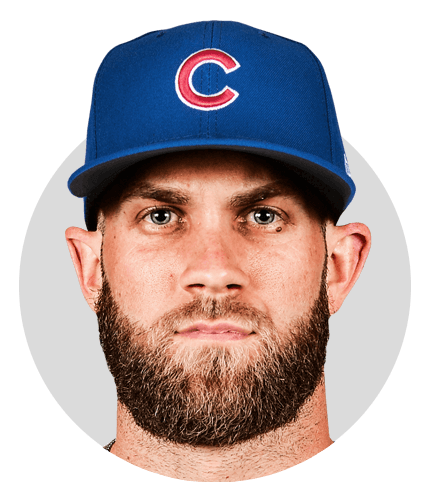 Last year in D.C., while the Cubs were in town, you posed for a pic. Left to right, it was your old pal Kris Bryant, his wife Jessica, your wife Kayla, and of course you. Then you posted it on Instagram, along with a caption that read, "Just two Vegas boys living our dream with the ones we love! This is what it's all about. What a time to be alive." No big deal, really. Except for the hashtag you decided to drop: #Back2BackOneDay.
The whole superfriends model of roster construction hasn't hit MLB yet, not like in the NBA, where all the best players would rather play with one another than against (see: Warriors, Golden State). But you don't mind starting a trend -- you've always been good at that.
You and KB (if he doesn't get traded), Anthony Rizzo and Javier Baez and Kyle Schwarber. A bunch of fun-loving 20-somethings, all under one roof. You'll be the National League version of the Houston Astros.
On the one hand, it doesn't seem the Cubs could possibly give you the gobs of green you're looking for. Not with almost $165 million in payroll already committed for next season. Not with Jason Heyward's fat contract on the books for another five seasons. Not if they want to keep superstars like Bryant and Rizzo in the Windy City long-term.
Still, when it comes to spending, the Cubs might not yet be in the same league as the Yankees and Dodgers, but ever since the Ricketts family took ownership almost a decade ago, it sure has seemed like they're headed in that direction. With a wildly popular team and a rabid fan base and a new TV deal on the horizon, the money seems to be there.
The only question is: Where exactly will you play? With Heyward in right field, Albert Almora in center and Schwarber in left -- not to mention Ian Happ backing up all three spots -- there isn't a whole lot of room in Wrigleyville for you. And it's not like you can DH, either. But that's not your problem. When you land in Chicago, GM Theo Epstein will find a way to create space for you. And once he does, Joe Maddon will find a spot for you in the lineup.
With any luck, you'll be hitting right behind your old homeboy Bryant. Back-to-back.

YOU'RE A PHILLIE!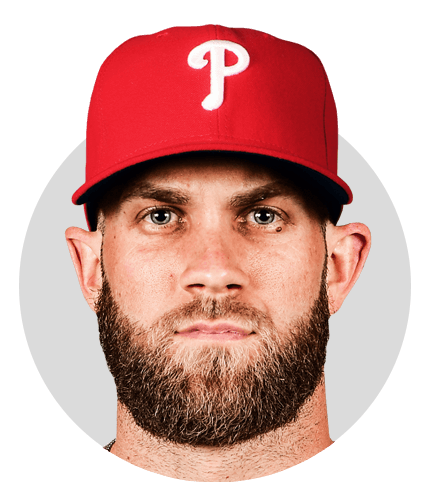 This one's all about the Benjamins.
Sure, the long-range forecast is sunny. Led by Rhys Hoskins and Aaron Nola, the Phillies have a solid core of young talent that has made the team playoff-relevant, and well ahead of schedule. And you like a W just as much as the next guy. That said, Philadelphia is even farther away from your hometown of Las Vegas than D.C. is. Beyond that, it's a town that, when it comes to sports teams, is decidedly unsexy, a city known for its gritty, blue-collar edge. It's the kind of place a guy like Mike Trout -- a low-profile, no-nonsense kind of dude who was born and raised in nearby Millville, New Jersey -- belongs. You? Not so much.
Remember that slump you went through in the first half of last season? If and when that happens in the City of Brotherly Love, you'll get pummeled by the unforgiving fans there. Kind of like how the fans in NYC abused Giancarlo Stanton after he got off to a rough start.
But that's OK. Because for you, the move to Philly is a bottom-line move. It's a move that feeds your ego. Although you've never come out and said it, you love the idea of one-upping Stanton and setting a record for the richest contract ever. And the Phillies are the team that gives you the best chance to do that.
Aside from Jake Arrieta and Carlos Santana, the Phils don't have any high-priced, long-term contracts. They have only $69 million committed to next season's payroll. Of all the clubs on your radar, they have by far the most financial flexibility, enough that they could probably sign you and Manny and still have some spending money left over. In other words, you can pretty much name your price, to the extent that GM Matt Klentak is interested in procuring your services. And why wouldn't he be?
Nick Williams is fine in right field, but he's not you. Even if Klentak wants to hold on to Williams, the Phils could slide him over to left and move Hoskins back to first once Santana's contract expires.
You don't really care about that. All you care about is the Benjamins. And the city where Benjamin Franklin made his name is where you'll make your fortune.
That's why you chose Philly.

YOU'RE A YANKEE!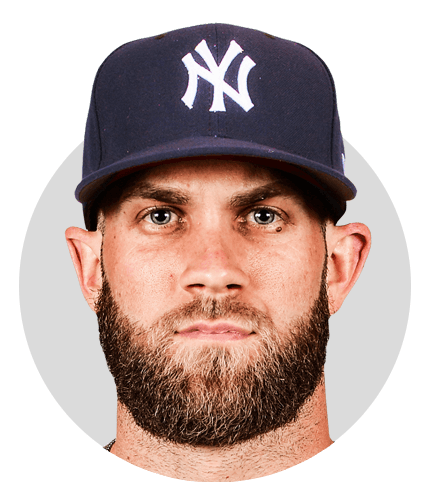 You've decided to lend the Junior Circuit your services. Although the Angels make a little bit of sense on account of the whole L.A. thing, and you've been courted recently by the White Sox, really there's only one option in your mind.
You grew up worshipping the Yankees because your dad worshipped them. And because, well, they're the Yankees. Mickey Mantle was your idol. You loved him so much, your Twitter handle, @Bharper3407, is a combination of his number and your number. As for your number, you're aware of the conspiracy theory. The one that says the reason you chose to wear 34 in Washington is that you knew if you ever ended up wearing pinstripes, 7 wouldn't be an option. So you chose a number whose digits add up to seven, knowing full well you could take 34 with you to the Bronx should the situation present itself.
If you're being technical about it, following in the Mick's footsteps means playing center field. But you're not really a center fielder. Yes, that's where you spent most of your time as a rookie, but that was mostly because the Nationals already had Jayson Werth entrenched in right.
Ultimately, though, Werth moved to the opposite corner and bequeathed right field to you. You like playing there. It allows you to show off that ridiculous hose of yours in a way the other outfield spots don't, what with those long throws to third base. Even when you don't get the chance to let it rip because the runner knows better than to try to go first to third on you, which happens all the time, it makes you feel mighty and respected.
Whether or not you care to admit it, you weren't your usual defensive self this year. You were a little less aggressive, especially in the vicinity of the warning track, as if you were afraid of getting dinged up in your walk year. Maybe it was a conscious choice, maybe not. You also seemed a little distracted out there from time to time, a little less engaged than usual. Maybe that was the walk year talking too. Or maybe that first-half slump got in your head and made it hard for you to leave your ABs in the dugout.
Regardless of what went down on D last season, you're a good right fielder and you know it. Maybe not as good as some folks think, but certainly good enough to play right field for the New York Yankees. Problem is, so is Aaron Judge.
Could Judge slide over to center to make room for you? Probably. After all, he's a pretty sick athlete who's remarkably coordinated for his size. But that size -- 6-foot-7 and 280 pounds -- sounds less like a center fielder and more like just a plain old center. As in a basketball center. Or a football center. Take your pick.
So maybe Judge pulls a Jayson Werth and moves over to left field for you, where there's a hole created by the redeployment of Brett Gardner, whose $12.5 million team option was declined by the club and who instead will earn $7.5 million next season, which sounds a little less like starting outfielder money. Alternatively ... the Yanks could leave Judge in right and put you in center.
Oh, don't act like that doesn't intrigue you. It intrigues everyone who watched you start 50-something games in center field for the Nationals last season. Sure, Washington was struggling to score early on and it was a creative way to get three strong bats (yours, Juan Soto's and Adam Eaton's) into the lineup at the same time. That said, the move was eerily reminiscent of when Orioles slugger Davis -- a first baseman by trade and a fellow Boras client -- suddenly started playing a bunch of right field during his contract year.
And let's not forget about first base. You've never played the position before, but that didn't stop you from taking grounders there in early July, before a game against ... the Yankees. Coincidence? Maybe. But if you're looking to plant a seed in the collective mind of a front office whose team doesn't necessarily have a long-term solution at first base (Greg Bird? Luke Voit?), there are far worse ways.
Speaking of planting seeds: In June, a couple of weeks before your impromptu first-base showcase, you showed up to Nats Park clean-shaven for the first time in forever. That trademark beard of yours? Gone. Then you went out and took early batting practice prior to the series opener ... against the Yankees ... who don't allow facial hair.
If someone who was watching you didn't know any better, they might think you'd already made your choice then.
---
So what will actually happen? Maybe Harper ends up signing with a dark horse like the Giants or Rangers or Padres. Maybe he decides to play in Japan. Maybe he pulls a Colby Rasmus and decides to walk away from baseball altogether. Nobody knows for sure, but it'll certainly be fun sitting by the hot stove this winter and seeing which adventure Bryce Harper chooses.