The Minnesota Duluth Bulldogs beat UMass 3-0 in the NCAA Division I men's hockey championship game to become the first team to win back-to-back titles since 2004 and 2005.
UMD's Parker Mackay won Most Outstanding Player, and Scott Sandelin won his third title as head coach.
Find the latest highlights, news and more here.
National championship
KeyBank Center, Buffalo, N.Y.
Minnesota Duluth 3, Massachusetts 0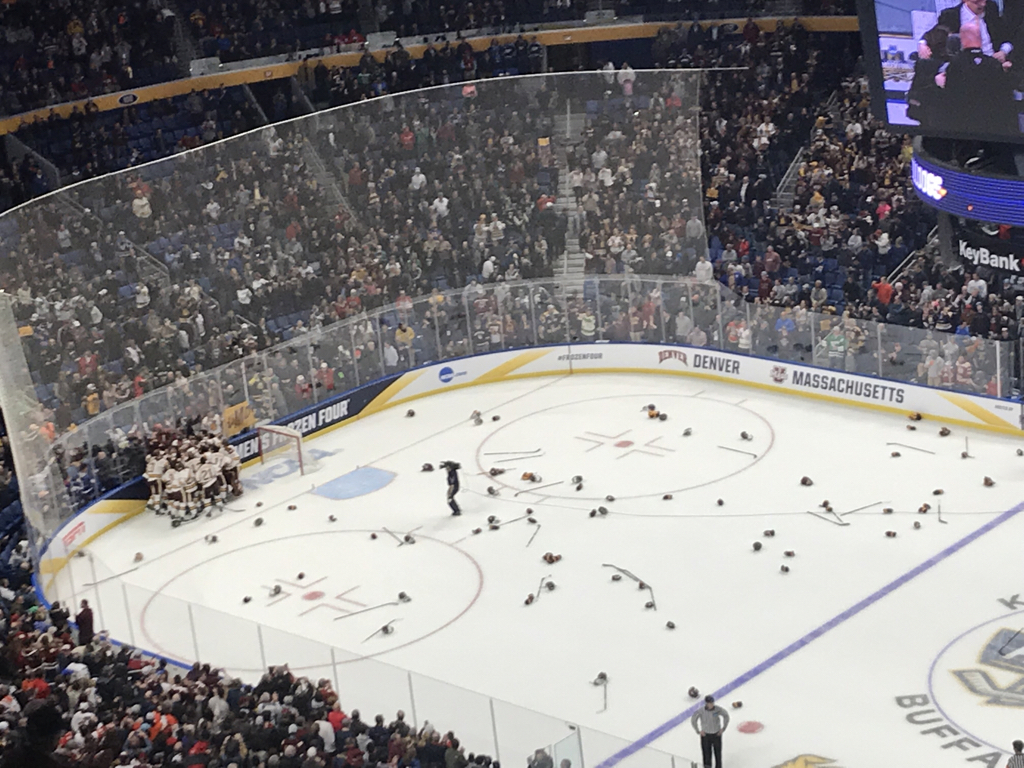 Minnesota Duluth was dominant in a 3-0 victory over UMass to claim its second straight men's hockey national championship. Senior captain Parker Mackay scored a goal and added an assist to lead the Bulldogs to another title. UMD is the first team in men's college hockey to repeat since Denver won back-to-back titles in 2004 and 2005. The Bulldogs finished their season with an eight-game winning streak, allowing one or fewer goals in seven of those wins.
Cates knocks in final goal of championship game
Jackson Cates scores a goal late in the third period to seal a 3-0 win over UMass and win the NCAA Championship.
Minnesota Duluth continues to strike in national championship
Mikey Anderson knocks in his 6th goal of the season to give Minnesota Duluth a 2-0 lead over UMass.
Cale Makar's future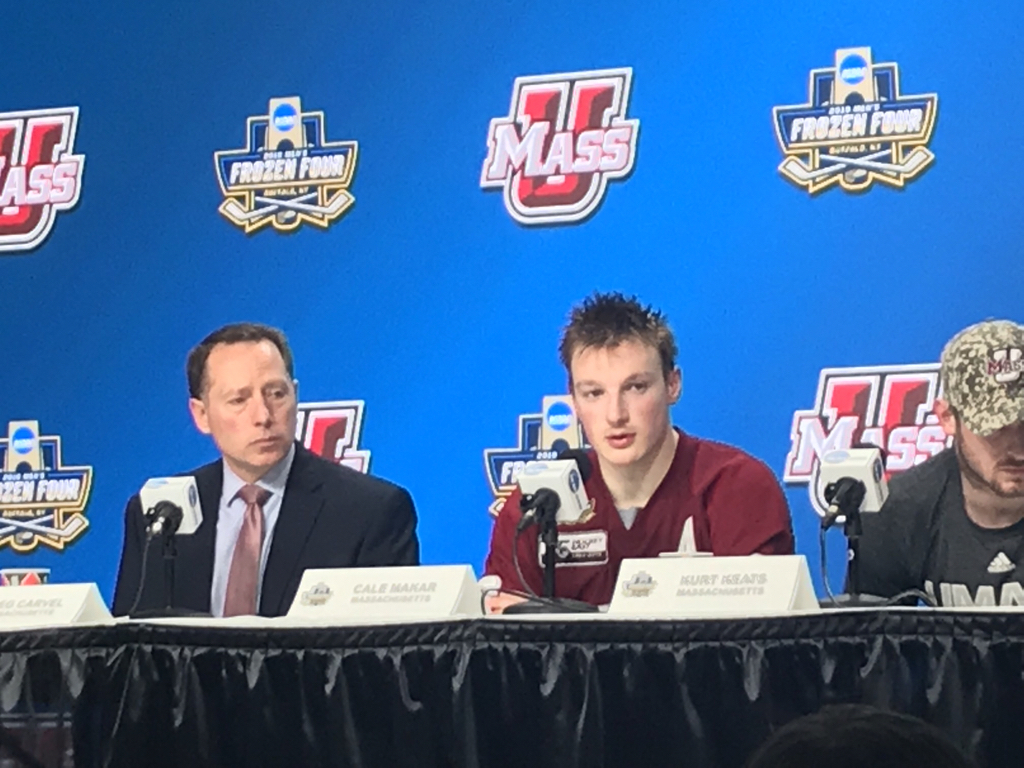 Cale Makar said that a decision about how soon he'll determine his future is "up in the air right now." The sophomore defenseman and Hobey Baker winner could sign with the Colorado Avalanche and join them in the playoffs if the team chooses to do that. Makar would burn a year on his entry-level contract simply by signing now. Additionally, if he plays in any playoff games, he would be eligible for the forthcoming expansion draft for the new team in Seattle -- meaning the Avs would have to protect him. Still wearing his UMass uniform in his post-game press conference Makar said, "I don't want to take it off. I want to wear this as long as I can."
Sandelin in good company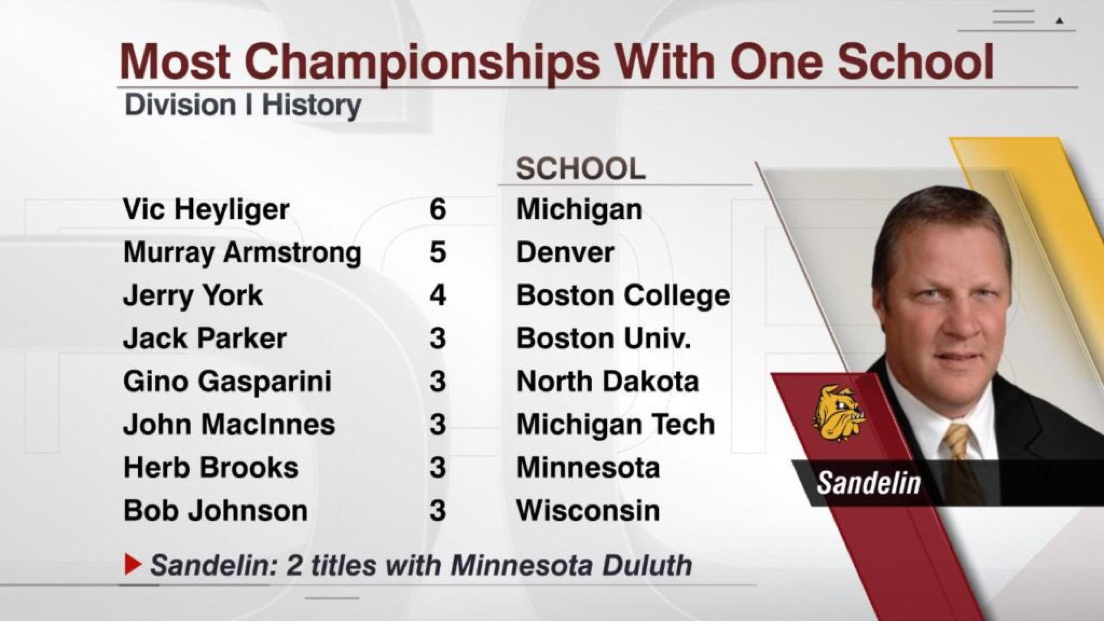 What does Minnesota Duluth coach Scott Sandelin have in common with college hockey legends Herb Brooks, Bob Johnson, Jack Parker and Jerry York? They are all among a short list of head coaches who have won three or more titles at the same school in men's college hockey. In addition to the back-to-back titles Minnesota Duluth won in 2018 and 2019, Sandelin guided the Bulldogs to the championship in 2011. The UMD head coach is likely to garner some NHL attention as he did last offseason with how many jobs are open currently. "If someday that ever pops up, I'll look at it for sure," Sandelin said earlier in the week about his future. "Right now, I'm in a great situation. I've got a great group of players." Adding another title to his long list of achievements is sure to keep his name on a NHL lists.
Frozen Four semifinals
KeyBank Center, Buffalo, N.Y.
Minnesota Duluth 4, Providence 1
UMass advances to championship after OT win
UMass' Marc Del Gaizo sends a slapshot into the back of the net in overtime, sending the Minutemen into the NCAA hockey championship.
The Minnesota Duluth Bulldogs will have a chance to defend their national title after downing Providence 4-1 in the 2019 Men's Frozen Four opener Thursday night. Justin Richards, son of former NHL head coach and current Tampa Bay Lightning assistant Todd Richards, scored the game's first and last goals to pace UMD to the semifinal victory. Meanwhile, junior goalie Hunter Shepard stayed hot in the playoffs by stopping 28 shots in his seventh straight victory. The Bulldogs hope to become the first repeat champions since Denver won back-to-back in 2004 and 2005. This also marks UMD's third consecutive trip to the national championship game, a feat last accomplished by Boston College from 2006 to 2008.
For the first time in school history, UMass will play for a men's hockey national championship. The Minutemen punched their ticket to the final in dramatic fashion as freshman defenseman Marc Del Gaizo blasted a one-timer for the overtime game-winning goal against Denver. UMass had a 3-1 lead heading into the third period, but Denver freshman center Cole Guttman scored twice to even the game. Del Gaizo's blast ended the game with 4:42 left to play in the extra period, giving the Minutemen a 4-3 win and a date with the defending champs. UMass will take on Minnesota Duluth in the national championship game Saturday at 8 p.m. ET on ESPN2.
Minnesota Duluth strikes first in title game
Minnesota Duluth captain Parker Mackay backhands a shot on the power play in the first minutes of the first period to put the Bulldogs on the board.
Denver scores after wild scramble in front of net
There is a scramble in front of the net for a loose puck and Denver's Kohen Olischefski finally sneaks it in past the goaltender.
UMass scores two goals in 19 seconds
UMass' Mitchell Chaffe puts a wrist shot into the back of the net and just 19 seconds later, John Leonard sends in a wrister of his own.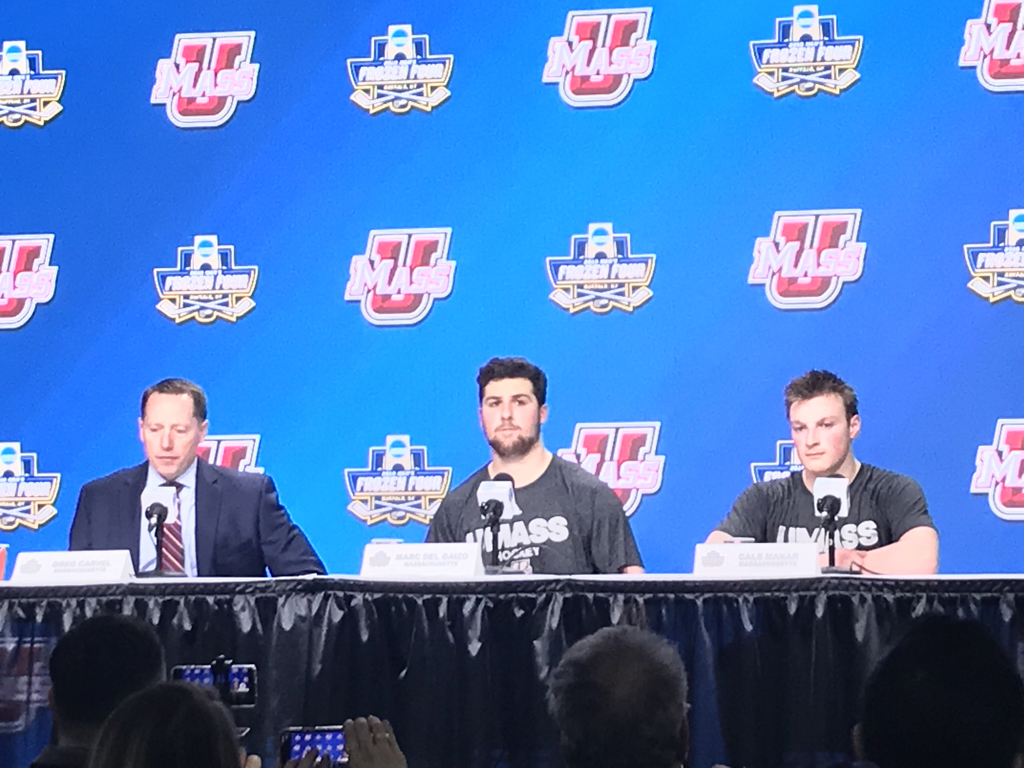 Freshman defenseman Marc Del Gaizo on scoring the OT game-winner that sent UMass to its first national championship game: "Probably the coolest moment of my life."
Regionals
Sunday, March 31
East Regional championship: No. 4 Providence 4, No. 3 Cornell 0
Midwest Regional championship: No. 1 Minnesota Duluth 3, No. 2 Quinnipiac 1
Saturday, March 30
East Regional: No. 4 Providence 6, No. 1 Minnesota State Mankato 3
Midwest Regional: No. 1 Minnesota Duluth 2, No. 4 Bowling Green 1 (OT)
East Regional: No. 3 Cornell 5, No. 2 Northeastern 1
Northeast Regional championship: No. 1 Massachusetts 4, No. 3 Notre Dame 0
Midwest Regional: No. 2 Quinnipiac 2, No. 3 Arizona State 1
West Regional championship: No. 2 Denver 3, No. 4 American International 0
Friday, March 29
Northeast Regional: No. 1 Massachusetts 4, No. 4 Harvard 0
West Regional: No. 2 Denver 2, No. 3 Ohio State 0
Northeast Regional: No. 3 Notre Dame 3, No. 2 Clarkson 2 (OT)
West Regional: No. 4 American International 2, No. 1 St. Cloud State 1
American International College pulled off one of the bigger upsets in recent history as the Yellowjackets bounced No. 1 overall St. Cloud State, beating the Huskies 2-1 on a thrilling first day at the NCAA men's hockey tournament. AIC had never appeared in the tournament prior to Friday. Meanwhile, this is the second year in a row St. Cloud lost to the tournament's lowest seed and third time in four years the Huskies have been eliminated as the top seed in a regional. AIC goalie Zackarias Skog made 33 saves in the game while his team managed to score twice on just 13 shots. Denver, the region's No. 2 seed and 2017 national champion, awaits AIC in the regional final after the Pioneers defeated Ohio State, 2-0. In other action, Notre Dame eliminated Clarkson with a 3-2 comeback win in overtime, while No. 4 overall seed UMass beat Harvard, 4-0. Notre Dame and UMass will square off in the Northeast regional final at 6:30 p.m. ET, while Denver meets AIC at 9 p.m. ET. Both games will air live on ESPNU.
Regional breakdown
Peters: Makar is 'best player in college hockey this year'
ESPN NHL analyst Chris Peters breaks down NHL prospects to keep an eye on in the NCAA men's ice hockey championship.
East Regional (Providence, Rhode Island)
1. Minnesota State (32-7-2)
2. Northeastern (27-10-1)
3. Cornell (20-10-4)
4. Providence (22-11-6)
West Regional (Fargo, North Dakota)
1. St. Cloud State (30-5-3)
2. Denver (22-11-5)
3. Ohio State (20-10-5)
4. American International (22-16-1)
Northeast Regional (Manchester, New Hampshire)
1. Massachusetts (28-9)
2. Clarkson (26-10-2)
3. Notre Dame (22-13-3)
4. Harvard (19-10-3)
Midwest Regional (Allentown, Pennsylvania)
1. Minnesota Duluth (25-11-2)
2. Quinnipiac (25-9-2)
3. Arizona State (21-12-1)
4. Bowling Green (25-10-5)